C.IAS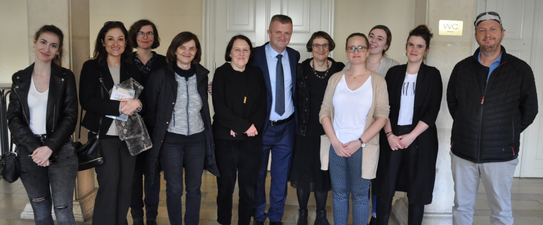 SARS-CoV-2
UPDATED INFORMATION FOR STUDENTS
UPDATE 18/3/2020
Dear students,
Theses (Diploma, Master, PhD) may be handed in digitally at the Dean`s office (details).
Since the university library has suspended its service, you are encouraged to use the library`s service of e-books, e-journals and databases via uni-kat. You simply need to establish a vpn-connection to access this service from home (more information on how to install vpn client on your personal device). Please return books and other media only if you leave the country, in all other cases please wait until the library will be open as usual. Overdue fines have been stopped. Library users with outstanding fines or overdues may also use the electronic service. Please direct any queries to ub.auskunft(at)uni-graz.at
Please be extremely aware of phishing e-mails.
Measures of the Austrian authorities include the closure of all public spaces (inclusive of sport fields and playgrounds) and restrictions on public gatherings. Essential shops (e.g. supermarkets, pharmacies, drugstores) will remain open. People are required to stay at home and only leave their houses for essential activities (groceries, to assist others, or essential work). If you need a break, you are allowed to go for a walk (but only alone or with persons living in the same household).
Always remember: never touch eyes, mouth or nose without tissue or having washed your hands before since this is a common way to get infected. Wash your hands more often than usual, for at least 20 seconds using enough soap, particularly after coming home from outside, coughing, sneezing or blowing your nose - hand sanitizers are only an option if there is no possibility to wash your hands and if they are declared to act virucidal (regular sanitizers are mostly bactericidal only). Cover your nose and mouth with a tissue or your sleeve when you cough or sneeze. Put used tissues immediately in the bin and wash your hands. Keep enough distance to other people. Based on our understanding of what is currently known of the disease COVID-19, it is likely that elder people and those with pre-existing chronic medical conditions (such as respiratory diseases) may be especially vulnerable to the virus SARS-SoV-2 – so try to avoid close contact particularly with those vulnerable groups.
Please do not leave your home if you have either returned from an affected area (e.g. Italy, Tyrol), or have been in contact with someone infected with the virus, or if you are feeling unwell with a cough, difficulty breathing and/or fever. Immediately call the hotline: 1450.
The Austrian Ministry of Health can be reached by the 24/7 hotline: 0800 555 621.
Welcome to the Website of C.IAS!
The Center for Inter-American Studies (C.IAS), under the leadership of Prof. Dr. Roberta Maierhofer, was established by the Rectorate of the University of Graz as a platform for interdisciplinary and inter-regional communication and collaboration in the Americas in 2006 and was officially founded in 2007.
This new interest in Inter-American relationships was sparked by processes such as globalization and transnational migration - developments that transform cultural identities and challenge conceptions of "self" and "other." Especially in Europe, which itself is in the midst of negotiating a "European identity" in addition to national and regional ones, changing reference points demand re-conceptualization of academic perspectives. For European scholars of Inter-American Studies, the "Americaness" of the Americas and the changing qualities of "self" and "other" are of particular interest, encouraging a re-definition of positions and mental frameworks.
By building intra-regional cooperation in international education based on teaching and research, new possibilities of collaboration and mobility are created and a wide variety of research projects in the field of Collective Identities, re-conceptualizing traditional approaches not only in terms of transnational and trans-regional, but also in terms of Euro-American relations, international summer schools, multifaceted lecture series, and publications contribute to the establishment of Inter-American Studies on a national and also international level.
The university's declaration of North-, Central- and South America as the second regional focus alongside the already established focus on South-Eastern Europe in 2012 highlights the commitment of the University of Graz to the study of the Americas.
Research and teaching
Establishing a special library
University-wide as well as external promotion of the new focus area "Inter-American Studies"
Developing a Joint Master's Program "Inter-American Studies" and supporting the Joint Master's Program "English and American Studies"
Providing detailed information for students and faculty at the University of Graz on course offerings in the field
International Summer School on the Americas
Hosting visiting researchers and lecturers
Organization of lecture series, workshops and conference
Conceptualization of and participation in research projects and educational programs
Acquisition of third-party funding for research and teaching
Contact
Center for Inter-American Studies
Merangasse 18/II
8010 Graz, Austria
Mon-Fri 9am-5pm